Veratrak partners with Lune to embed sustainability within supply chain operations
February 23, 2023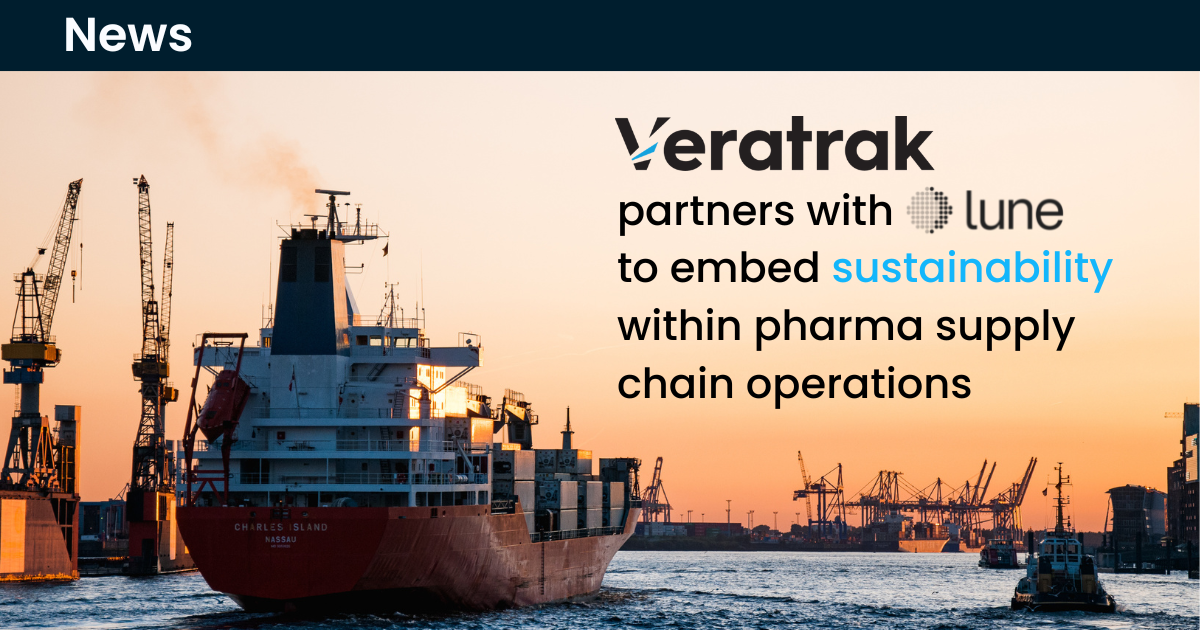 Veratrak, an award-winning software company based in the UK, announced today that they have entered a strategic partnership with Lune, a software organisation focused on helping customers integrate climate impact into their operations.
Following the successful launch of the Hub, by Veratrak, in January 2023, a unified supply chain management solution to improve collaboration across pharmaceutical, manufacturing and logistics organisations, Veratrak is going a step further in their offering to help customers generate efficiencies and reduce their carbon footprint across global supply chain operations. Veratrak has partnered with Lune and integrated their Scope 3 carbon emissions calculator into the Hub platform to automate emissions calculations based on industry best practice, the GLEC framework and compliant with ISO 14083.
From the Hub, by Veratrak dashboard, life science organisations gain visibility across their supply chain to measure Scope 3 emissions, analyse their sustainability efforts, and take action to reduce their carbon footprint across their value chain. Customers of Veratrak will now be able to automatically extract, synthesise and visualise partner performance metrics across their supply chain operations, and gain insight into their sustainability reporting right from the Hub.
Jason Lacombe, CEO and Founder, Veratrak, said: " We work with over 100 organisations across six continents, and we're delighted to be partnering with Lune to help them measure their carbon footprint with full control over the level of granularity, and enable them to take action to reduce their carbon emissions. We all have a part to play in tackling climate change, and at Veratrak, we are committed to offer insightful manufacturing supply chain visibility to our customers to enable sustainable, climate conscious shipping workflows."
Roland Becsi, Head of Engineering at Veratrak commented: "The sustainability data captured and centralised into the Hub dashboard includes Scope 3 Emissions, transportation and distribution, investments and leased assets and franchises." He added: "We're proud to have developed a solution that delivers added value to our customers, with high quality analytics and reporting to help life sciences companies achieve better planning, visibility, diagnostics and troubleshooting, towards a more sustainable supply chain."
Erik Stadigh, Co-founder & CEO at Lune, said "Lune is on a mission to make every product and service climate positive by default. As a critical partner in Veratrak's efforts to incorporate sustainability into the core business of life science organisations, Lune's software allows them to calculate their shipping emissions directly through the Hub platform."
The Hub, by Veratrak, harmonises data across all logistics providers, enabling insightful performance analysis and reporting. The Hub platform supports any file format from CSV, to XML, EDI or JSON, and any communication protocol from FTPS, to AS2, or API, and supports existing technical stacks, with the ability to onboard new supply chain partners seamlessly.
About Veratrak
Founded in 2018, Veratrak is an award-winning UK-based software company purpose-built for the life science industry and the first industry approved commercial blockchain product. The Hub, supply chain management platform by Veratrak, links systems across pharmaceutical, logistics and contract manufacturing organisations to facilitate collaboration, improve visibility and generate efficiencies across supply chain operations. For more information visit: www.veratrak.com.
About Lune
Lune is on a mission to make every product and service climate positive. Brand-conscious companies use Lune's API and platform to calculate emissions, create climate action through vetted carbon offsetting, and future-proof business growth. Lune makes it easy for companies to measure emissions and contribute to vetted, high-quality carbon projects. Lune is trusted by companies like Veratrak, Salesforce, Forto, GoCardless, IDEO and more. For more information visit: www.lune.co.