Navigating the Digital Transformation Journey to Accelerate Supply Chain Resilience
July 06, 2023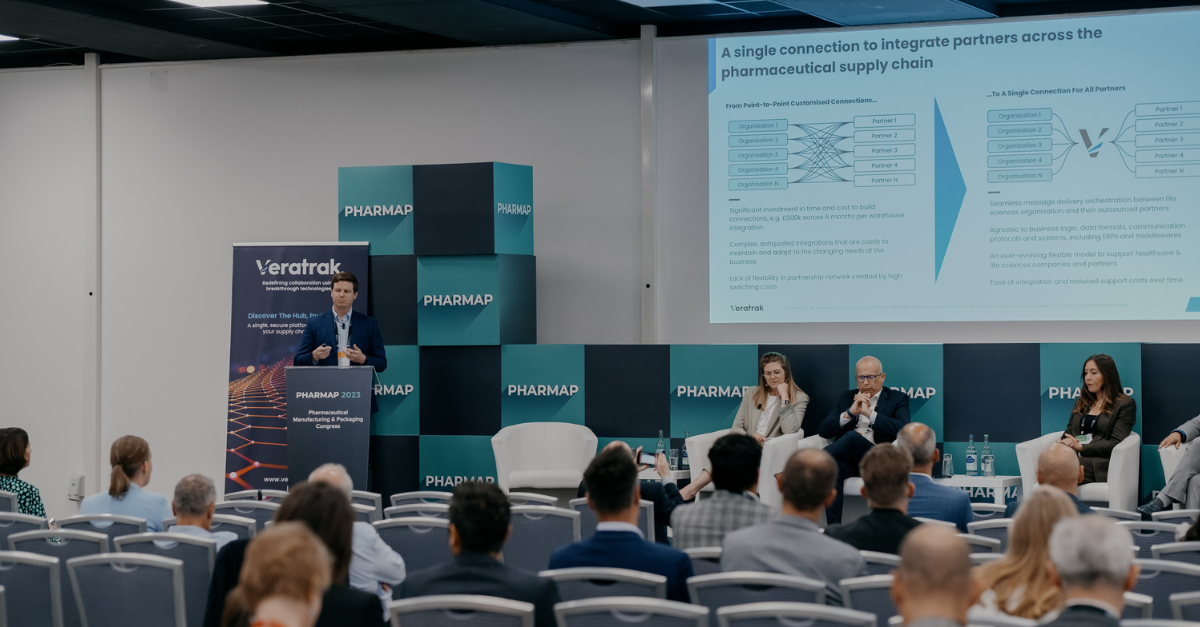 After he moderated a panel at the PHARMAP conference in Geneva, 12-13 June, discussing 'Supply Chain Optimisation in Pharmaceuticals', we took some time to have a chat with Colin Tierney, Chief Product Officer to find out more about navigating the digital transformation journey to accelerate supply chain resilience.

Tell us more about what your role at Veratrak
As Chief Product Officer, I am responsible for defining Veratrak's product strategy and innovation efforts as part of its mission to integrate the pharma supply chain. I work closely with customers to drive their integration and visibility strategy with supply chain partners, including warehouse, logistics providers and contract services partners. Through understanding the needs of the customers and the opportunities in the market, I work with our engineering group to ensure we're consistently delivering valuable products, services, and enhancements to our offering.
What do pharma companies need to consider to accelerate their digital transformation?
Companies are investing in digital and analytics to enable greater transparency and visibility across the end-to-end supply chain. Today, many organisations are evaluating and upgrading their existing technology infrastructure to support digital transformation, including modernising legacy systems and adopting cloud computing, to ensure scalability and flexibility.

One of the main reasons we built the Hub was to help pharma companies integrate with partners' disparate IT systems for seamless data flow and collaboration across departments.
This is why a supply chain management platform like the Hub is well-positioned to help pharma companies embrace digital transformation to reduce the impacts of supply chain disruptions we have seen over the past 3 years.
In your opinion, what measures will best secure future supply chain resilience?
Good supply chain management is about two things: reducing complexity, and reducing uncertainty. Securing future supply chain resilience requires a combination of proactive measures aimed at mitigating risks, enhancing adaptability, and fostering collaboration throughout the supply chain.
Some opportunities that can help achieve this goal are:
- Robust data security and cybersecurity: Protecting supply chain data is crucial for resilience, particularly in the pharmaceutical space. Companies should look to implement data security measures, including data encryption, strong access controls, regular backups, and robust cybersecurity protocols to safeguard sensitive information from breaches and threats.
- Enhanced transparency and traceability: Technologies like blockchain, Internet of Things (IoT), and data analytics to improve visibility, traceability, and data integrity across the supply chain. Real-time information sharing can help identify bottlenecks, track products, and quickly respond to disruptions. These insights also help supply chain professionals identify patterns, anticipate demand fluctuations, and optimise inventory levels, leading to improved efficiency and cost savings.
- Foster collaborative relationships with suppliers, customers, and other stakeholders: Close collaboration, information sharing, and risk assessment between pharmaceutical companies, contract manufacturers, and suppliers can help identify system-wide vulnerabilities and proactively address potential disruptions to ensure continuity in the supply chain.
How do you see collaboration within the pharma industry leading to the implementation of sustainable practices?
With updated corporate reporting standards and regulations on the horizon to promote a sustainable future, there is an increased focus on ethical sourcing practices, sustainable packaging, and environmental responsibility. Pharmaceutical companies need to find new ways to work towards reducing waste, carbon footprint, and ensuring responsible sourcing of raw materials.

We know that in complex supply chains, system-level change requires a lot of collaboration. We see our customers opening the conversation to help establish common sustainability goals, metrics and reporting frameworks, to allow for better benchmarking and comparison of sustainability performance across the industry.

The World Economic Forum has found that Scope 3 emissions (which encompasses carbon emissions a company is indirectly responsible for up and down its value chain) can account for as much as 90% of a company's carbon footprint, so collaborating with suppliers is also crucial to drive sustainability throughout the supply chain.

However, with a growing number of logistics parties involved in the pharma manufacturing process, it can be difficult to monitor and control performance, which is why we're introducing the capability within Veratrak's Hub to view Scope 3 emissions calculations, allowing users connected to the platform to measure carbon emissions output across their supply chain partner network.

Final thoughts: what does the future hold for the pharma supply chain?
I think the industry can look to new technologies to solve some of the key problems they face in terms of visibility and planning like artificial intelligence, machine learning, and predictive analytics. All of these technologies hinge on robust data capture across the supply chain, both upstream and downstream. With this visibility in place, predictive modelling can help enable better demand forecasting, inventory optimisation, and supply chain planning and enable intelligent scenario modelling.

With regards to the future of drug development, personalised medicine and advancements in biotechnology are leading to an increase in small-batch and specialty pharmaceutical production. This shift requires agile supply chains capable of efficiently managing smaller volumes, shorter lead times, and complex distribution networks.

Coming full circle, I see sustainability being a key driver towards forming supply chain relationships going forward. Standards are being set to help companies guide their future partnerships and an additional lens to measure partner performance and opportunity for collaboration to help get medicine to patients on time, in full and sustainably.